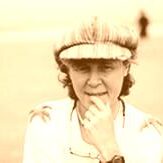 I was born in London in 1953. I studied photography at Manchester Metropolitan University's School of Photography. Since then I have lived and worked in Spain, France and Holland, and I am now based in Hebden Bridge, West Yorkshire.
I work as an independent photographer, but often collaboratively or in close connection with other artists and organisations. Amongst these is the Ted Hughes Arvon Centre at Lumb Bank.
With poet and playwright Amanda Dalton, when we devised and developed the Desire Paths Project as a radio drama production and exhibition. More recently,the Quaker organisation , the National Theatre and the Royal Exchange Theatre in Manchester have commissioned and used images from my colour work.
The writers' portraits are published internationally by the press and publishers.
Many of the photographs have been exhibited in galleries across the UK.
I work as an independent photographer, but often collaboratively or in close connection with other artists and arts organisations